WHO WE ARE
The Founder
Asma Abou Ezzeddine Rasamny, of Lebanese origin, called Damascus home for over 18 years. The tragic situation in Syria is the biggest humanitarian crisis since World War II, leaving 14 million children in desperate need of support. In an aim to try and help in any way she could, Asma found herself engaged with a group of displaced refugees in northern Lebanon, which later developed into a project for "Education."
"Malaak" was legally registered in 2012. "Malaak" has no religious or political bias.
Our Mission & Vision
Our mission is in educating "Syrian refugees displaced in Lebanon," by creating a space that is healthy and happy. Malaak is dedicated to ending illiteracy in the camps through education, and innovative programs designed to empower families to achieve self-sufficiency. By filling these GAPS, we hope for a more promising future.
Hope makes dreams possible. Dreams motivate us to become more than we are. Families who have lost everything have lost hope as well. At the "Academic Center in Akkar" they recover their hope. They dream again. And they learn how to make their dreams reality.
How it all started
With nearly 2 million displaced refugees in Lebanon, the crisis became overwhelming with no plan of action for the millions. In an attempt to deliver basic humanitarian aid to informal settlements in Northern Lebanon, the cry for education grew louder and louder amongst the displaced and distraught. Fatigued they cried: "Our kids need to be in a learning environment, before it's too late."
THE TEAM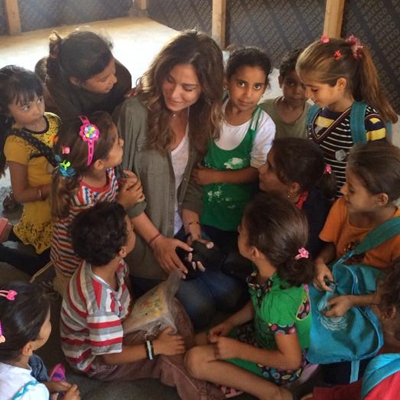 Asma Abou Ezzeddine Rasamny, the President and Founder of Malaak, is of Lebanese origin, but called Damascus home for over 18 years. Malaak is a non-profit organization that serves and strives to support education for refugees living in camp settlements in the Northern region of Lebanon. Asma opened Malaak's doors in 2013 by immediately responding to the refugee crisis that developed in Lebanon. Despite the high economic, social, and infrastructural pressures refugees had on Lebanon, providing a safe space with the fundamentals to learn, mature, and grow into resilient individuals was a priority.
Asma earned her bachelor's degree in Developmental Psychology, graduating from the Lebanese American University. Her commitment to mental health pushed her to join the executive committee of Focus fund at American University of Beirut Medical Center- the first child mental health fund in the Arab region. This fund empowers and effectively cares for children with emotional, behavioral, and learning disorders.
Furthermore, Asma is the co-founder of project "Stitching Hope" a center closer to the Southern Beirut suburbs. Stitching Hope serves in building practical skill. This sewing and embroidery project intends to create economic development for vulnerable women and break the poverty cycle of many of these families. This project is part of the continuous efforts to provide resources to further promote economic opportunity and advance human rights, creating space for individuals to pave personal paths to a free and more productive life.
in 2019 Asma was selected as a fellow in the Middle East Leadership Initiative- Class VI Asma Abou Ezzeddine Rasamny - AGLN - Aspen Global Leadership Network (aspeninstitute.org)